Personal ImPACt
Date posted
September 7, 2023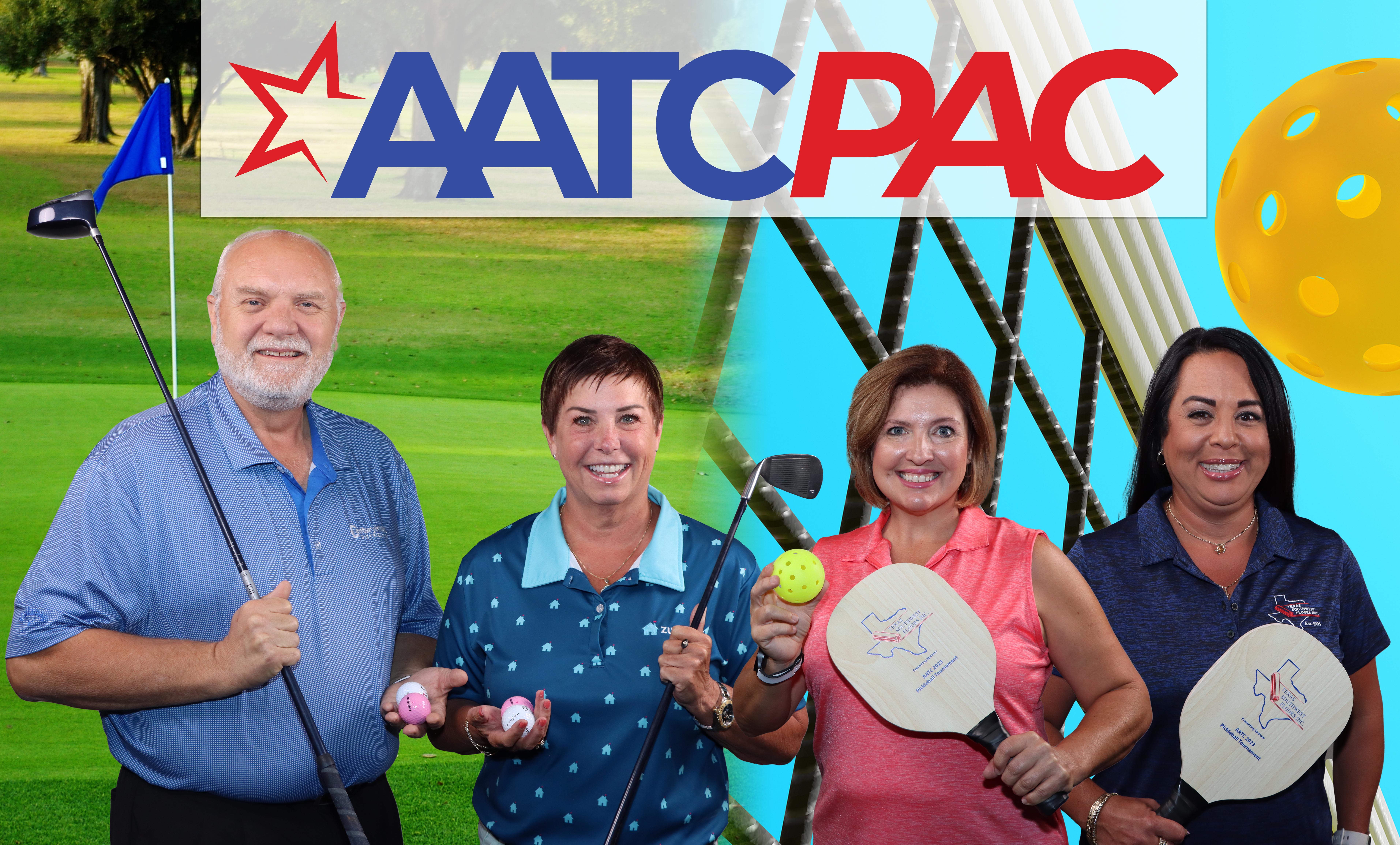 AATC is led by members and served by staff. This dual governance model fosters innovation and collaboration. This structure encourages members to share ideas and be entrepreneurial within the core mission to advocate, educate, communicate, and network.
This open environment has produced numerous programs and operational approaches that have not only benefitted AATC but have been adopted by apartment associations throughout the nation. IRO, Business Exchange, Leadership Lyceum, property-based membership, our sponsorship auctions, and professional education classes all began with input from an AATC member asking, "What if AATC did this? Has AATC ever considered this? Is it feasible to try this?"
Earlier this year, AATC Board member John Brandes (Maintenance Supply Solutions) approached AATC staff about the possibility of AATC hosting a Pickleball tournament. John then shared his Pickleball tournament idea with AATC PAC Events Chair Chris Jimenez (Renew Renovation) and the PAC Events Committee.
It was then up to the AATC staff to research the financial feasibility and potential member participation in a Pickleball event. Based on staff input, the PAC Events Committee made a recommendation to the AATC Board of Directors, who unanimously approved AATC's first annual AATC PAC Pickleball tournament presented by Texas Southwest Floors.
Pickleball Tournament Details:
Date: September 12th, 2023
Location: Chicken and Pickle, 4600 Merlot Ave., Grapevine, TX 76051
Check-in: 5:00 pm
Pickleball Orientation: 5:00 pm
Tournament Start: 6:00 pm
Registration Fee: Pickleball Team: $400; Spectators: $50
Parking: FREE
Click on the following link to sign up a team or be a spectator:
https://www.aatcnet.org/events/2023-pickleball-tournament-
What is Pickleball?
If tennis and ping pong had a baby – that's Pickleball.
How does this event work?
Teams will compete in a tournament-style format.
How many people are on a team?
A team consists of one owner/operator and one supplier partner.
How much do teams cost?
$400 per team
How do I pay for a team?
Pickle Ball is a fundraiser for the AATC Political Action Committee (AATC PAC). Player registration fees must be from personal funds – no corporate payment allowed.
What equipment do I need?
All players will receive an AATC custom pickleball paddle courtesy of Texas Southwest Floors.
What does a spectator get to do?
In addition to cheering on your favorite team, non-players get access to shuffleboard, cornhole, ping pong, battleship, Jenga, and more! Food and beverages will also be provided during the event for all registered spectators and players.
Pickle Ball joins our Spring Fling and Fall Classic golf tournaments as AATC PAC fundraising events. AATC's two golf tournaments are the largest source of donations to the AATC PAC. The golf tournaments annually raise more than $79,000 for AATC PAC.
This year's Fall Classic, presented by Century HVAC, is Tuesday, October 3rd, at Bear Creek Golf Club.
Fall Classic Golf Tournament Details:
Date: October 3rd, 2023
Location: Bear Creek Golf, 3500 Bear Creek Court, Dallas, TX 75261
Tee Off: 8:00 a.m.
Lunch/Awards: 2:00 p.m.
Registration Fee: Team: $1,100 (personal funds only); Party Pass: $50 (corporate funds are allowed)
Teams Get a cart, breakfast, and lunch.
Sponsors Get a cart, breakfast, and lunch.
Party Pass Get: Lunch and access to the course
Parking: FREE
Click on the below link to get a party pass:
www.aatcnet.org/events/2023-fall-classic-golf-tournament-presented-by-centuryhvac
The Fall Classic, presented by Century HVAC, is a four-person scramble. Team prizes include Championship, 1st Flight, & 2nd Flight. In addition, there will be six prize holes, including closet-to-the-pin on all par 3's, as well as the longest drive and ladies-only long drive. Golfers will also be able to win $1,500 at the Power Putt 19th hole.
Our golf tournaments and Pickleball events would not be possible without the generous support of our sponsors. Thanks so much for investing in AATC.
These events are fundraisers for the AATC PAC. The monies donated to the AATC Political Action Committee (AATC PAC) are used to support local and state candidates and causes that align with the multifamily industry. These dollars help AATC fight onerous government policies and regulations that can affect your bottom line, such as city inspections, city fees, taxes, and local eviction ordinances. For supplier partners, every dollar a government takes from an AATC owner/operator is a dollar that cannot be used to purchase goods or services.
As an AATC member, never underestimate your ability to influence the Association's programs and operations. Pickle Ball is the latest in a long history of AATC being a center of excellence and innovation.