Multifamily Market Update

Rent Growth Surging Across Greater Fort Worth
One of the major developments for the multifamily industry so far this year has been strong rent growth as the recovery in apartment demand that began last year has continued. The Greater Fort Worth market has not been left out in this regard. Including conventional properties of at least 50 units, let's have a closer look at rent movement through May.
Greater Fort Worth Overall
At the market level, average effective rent has increased by 5% through May of this year. Not only was this rate of growth well beyond the 0.8% mark from COVID-affected 2020, but it was the largest move through the first five months of the calendar in more than a decade. Not since 2014 has effective rent growth hit even 4% through May.
Driving rent growth was a similarly dazzling net absorption figure. After adding only about 1,700 net leased units last year, net absorption totaled around 4,100 units through May of this year. Not since approximately 4,200 net units were absorbed in the same portion of 2012 has apartment demand been stronger at this point in the calendar.
Effective rent growth combined with an average occupancy gain of 1% propelled net rent per unit up by 6% in the period. Unsurprisingly, this too was the largest gain in more than a decade.
Lease Concessions
In addition to apartment demand, another factor that has played a vital role in recent rent gains has been the retreat of lease concessions following a dramatic increase in 2020. Both the availability of discounts and the average discount value has decreased considerably since the start of the year.
Concession availability decreased by 25% in the period bringing the share of properties offering a discount to 23%. The decline in availability meant that for the first time since January of 2020 less than one-quarter of Greater Fort Worth properties were offering a lease concession. The average discount value declined by 11% to three weeks off an annual lease – a hair lower than even May of 2019. Concession package values have been elevated relative to the previous history for the last three years or so with the increase in new construction activity. A continued decline would be needed to bring the average back to the level from 2016 or 2017.
Price Class
As would be expected, the most aggressive rent increases have been in the top price classes. Class A properties have seen average effective rent grow by more than 8% through May after a 40% decrease in lease concession availability. After factoring in a 6% increase in average occupancy, net rent per unit increased by 15%. Class B properties have not been all that far behind with an average effective rent gain of more than 6%. Within that subset of properties, lease concession availability has decreased by almost 30%.
Class C properties have also significantly outperformed recent years in terms of rent growth Average effective rent has increased by 3.5% through May, partially aided by an almost 20% decline in discount availability. Unlike Class B properties, which saw little movement in average discount value, the average concession package for Class C properties declined by about 8% in the period. Movement has been more muted for Class D. Average effective rent rose by 1.5%, barely above the 1.3% gain from last year and below the 2% increase in 2019. Unlike the other three price classes, though concession availability decreased, the average discount value rose by 7% to just under four weeks off an annual lease.
Takeaways
After a recovery in apartment demand in the second half of 2020, rent growth has exploded in Greater Fort Worth this year. The strongest net absorption in almost a decade paired with receding lease concessions have resulted in rent growth not seen in more than 10 years. An encouraging sign has been the positive gains across all price classes, though the bottom tier has certainly lagged the other three.
However, one point of concern is the extent to which average rent has increased in such a short period of time. Unlike many markets around the country, rent growth did not close 2020 in negative territory, so this year's rent increases are not simply a recouping of a previous retraction. As a result, there may be residents that soon feel the squeeze of recent gains.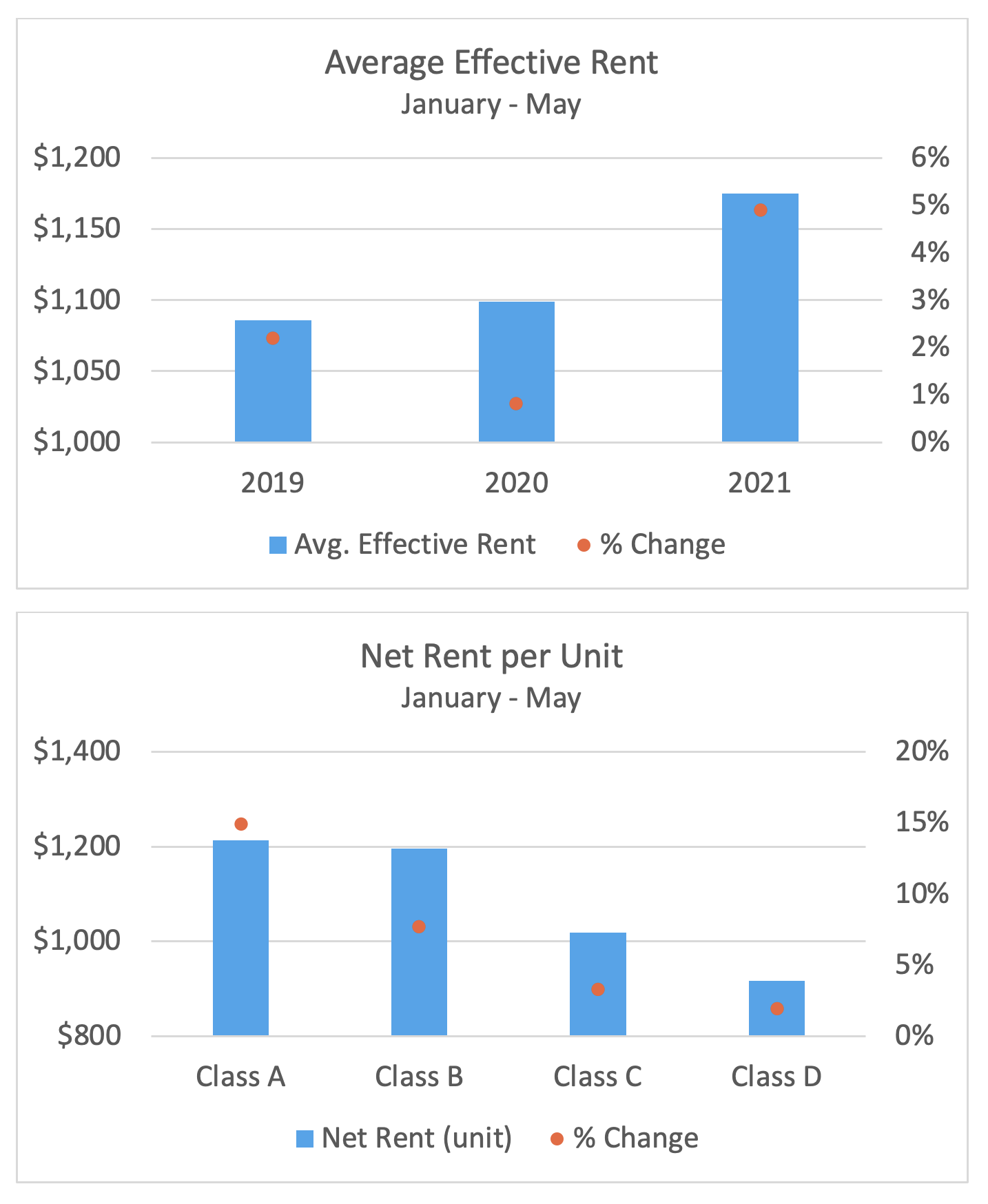 Jordan Brooks
Senior Market Analyst – ALN Apartment Data
Jordan@alndata.com
www.alndata.com
Jordan Brooks is a Senior Market Analyst at ALN Apartment Data.  In addition to speaking at affiliates around the country, Jordan writes ALN's monthly newsletter analyzing various aspects of industry performance and contributes monthly to multiple multifamily publications. He earned a master's degree from the University of Texas at Dallas in Business Analytics.