Stabilized Properties Bearing the Brunt of Reduced Demand
This year has brought many changes for the multifamily sector, especially a 70% decline in net absorption through May compared to last year at the national level. The Greater Fort Worth market has roughly matched that decline.
A helpful indication of market conditions is the performance of stabilized properties relative to the market as a whole. For a closer look at just that, conventional properties of at least 50 units will be used, and only properties that entered the year already stabilized.
Average Occupancy and Net Absorption
Properties that entered the year already stabilized have seen an average occupancy decline of about 0.5% to cross back below 95% to end May. While it is the case the average occupancy has remained unusually high, this was the first decline for this portion of the calendar in the last five years. The softening of average occupancy came largely thanks to net absorption for stabilized properties slipping into negative territory for the period. After a net gain of approximately 1,200 units through the first five months of 2021, about 1,100 net leased units were shed in the same portion of 2022.
From the perspective of price class, the largest average occupancy decline was in the Class C space. A 1% decline brought these properties to an average occupancy of just over 94%. This is essentially where the subset of properties have found themselves to close May in each of the last five years, meaning the gains of 2021 have now ebbed. While Class D properties managed to hold steady with no change in average occupancy through May, both the Class A and Class B groups saw a decline of 0.5%. As a result of these moves, it was only Class A and Class D stabilized properties that finished the period with average occupancy higher than is typical.
Average Effective Rent and Lease Concessions
While the picture has shifted somewhat dramatically on the demand front, rent growth has not yet born out that change. Properties to enter the year stabilized have realized an average effective rent gain of approximately 6% through the first five months of the year – ahead of even last year's mark. It is important to note that rent growth did not begin in earnest in 2021 until around March, so while this year's appreciation has outpaced last year's, it has done so with the benefit of existing positive momentum.
Another indication of changing tides was the movement in lease concessions. The availability of discounts for new leases continued to decline from the start of the year, closing May with only 7% of stabilized properties offering a lease concession for new residents. However, the average lease concession value, calculated from among only those properties offering a discount, reversed course and rose in the early part of 2022. The average discount at the end of May stood at about two weeks off an annual lease. This is not a large number but is larger than in May of both 2018 and 2019.
Takeaways
Positive apartment demand for Greater Fort Worth at the market level has helped to obscure the net loss of leased units among properties to enter the year already stabilized. While rent growth momentum for these properties has not abated, this decline in demand has resulted in average occupancy sliding back to a typical level after the highs of 2021.
Though lease concession availability has not yet begun to rise, the increase in the average discount value indicates that properties are beginning to shift back to the use of lease concessions as a tool to boost demand and occupancy Without a summer bounce in demand, and there is seemingly not much reason to expect one, rent growth momentum for stabilized properties will have trouble surviving the summer at its current pace.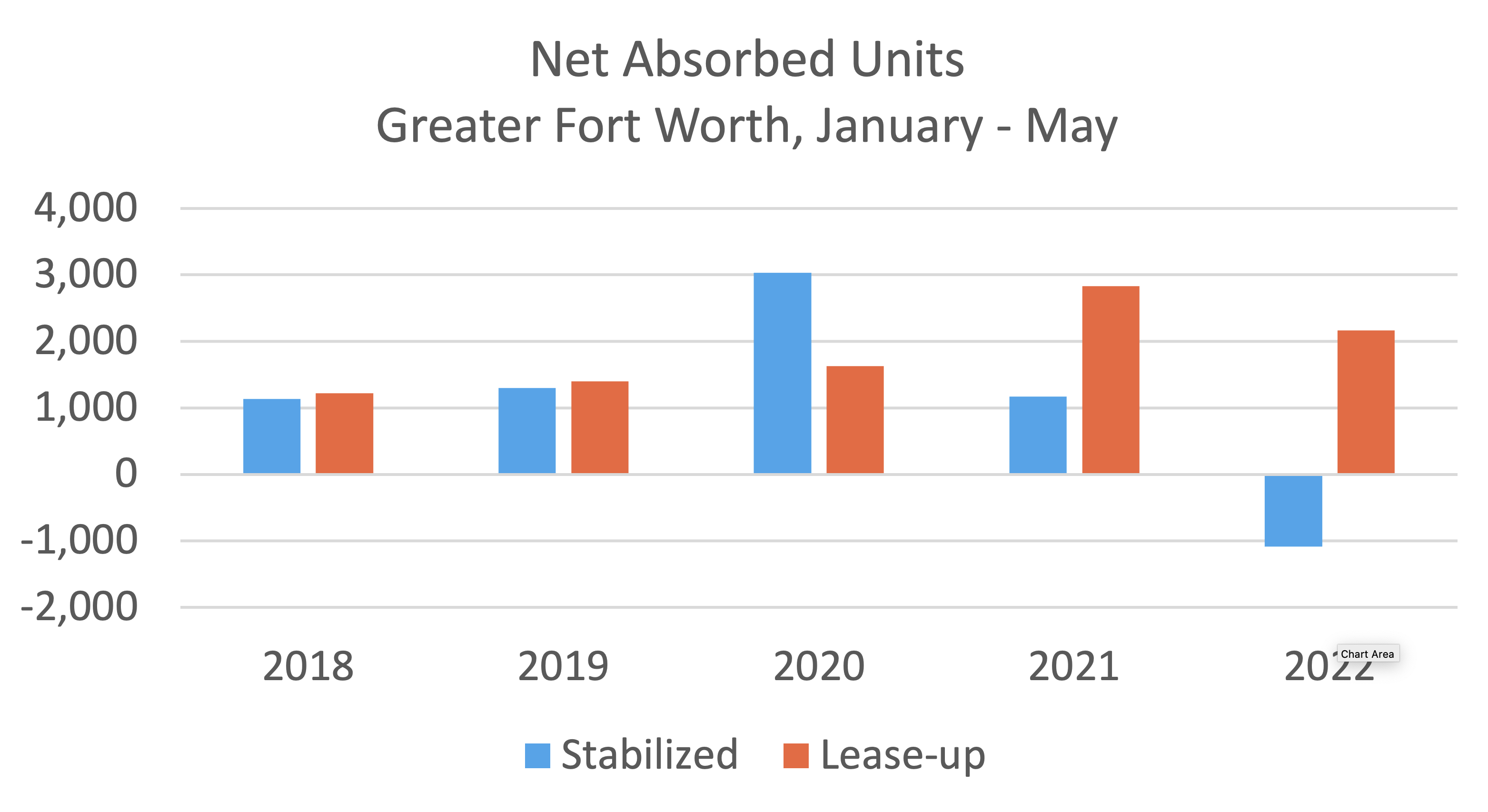 Jordan Brooks
Senior Market Analyst – ALN Apartment Data
Jordan@alndata.com
www.alndata.com
Jordan Brooks is a Senior Market Analyst at ALN Apartment Data. In addition to speaking at affiliates around the country, Jordan writes ALN's monthly newsletter analyzing various aspects of industry performance and contributes monthly to multiple multifamily publications. He earned a master's degree from the University of Texas at Dallas in Business Analytics.