Market Update: Apartment Demand Hits a Snag

Apartment Demand Resurgence Hits A Snag
Though the challenges of 2020 wrought a shift in the recent multifamily paradigm, apartment demand rebounded strongly beginning in the third quarter of 2020 for Greater Fort Worth. However, unlike on the Greater Dallas side of the metroplex, that resurgence somewhat petered out over the last three months as of the time of this writing – December through February. With this in mind, let's have a closer look.
Numbers will refer to conventional properties of at least 50 units.
Greater Fort Worth Overall
Less than 100 net units have been absorbed since the start of December across Greater Fort Worth. This is lower than the more than 600 net absorbed units from the same period a year ago, and to make matter worse, more than 2,000 new units have been delivered in that three-month span. The net effect was a 1% decrease in average occupancy for the area to just below 90%. Average effective rent growth, buoyed by those new units, was 0.5% over those three months.
Price Class View
Unlike in some areas of the country, the top two price classes have sustained demand to a greater extent than the lower two tiers. For Class A, more than 550 net units were absorbed in the period. This compares favorably to the approximately 460 net absorbed units from a year ago. This relatively robust demand was certainly a welcome sight given the volume of new supply but fell well short of offsetting those new units.
Class B properties also managed an increase in net absorption compared to a year ago, and to an even greater extent than Class A properties. Undoubtedly an average effective rent of $160 per month less than the Class A average was helpful in that regard. Net absorption of a little more than 500 units from December through February was almost double that of the previous year when just over 250 previously unoccupied units were leased during that same period.
It was within the bottom two price tiers that net rented units were lost and this had a profound impact on the market-level absorption numbers. Class C properties shed around 550 net rented units over three months after losing less than 20 net rented units during that same period a year ago. For Class D properties, about 350 net rented units were lost after a loss of only 140 units or so a year ago.
These two price classes were the only two to see increases both in the availability of lease concessions and the average discount value. These demand results could be an indication of continued struggles within the subset of residents with employment most affected by the pandemic.
Submarket View
Seven out of 12 ALN submarkets for Greater Fort Worth suffered a net loss in rented units from December through February. Two areas particularly stood out in this regard. The Denton – Corinth submarket shed about 200 net rented units while the Central Arlington submarket lost around 140 net rented units.
Similarly, two regions of the market were especially of note on the positive side. The Central Fort Worth area took advantage of a break in deliveries and added more than 2% to average occupancy thanks to net absorption of almost 400 units. In the Grapevine – Roanoke – Keller submarket, more than 250 net units were newly leased. The North Fort Worth region led the rest of the submarkets with net absorption of 150 units.
Takeaways
After a turbulent first half of 2020, apartment demand roared back in the third quarter and into the fourth quarter for Greater Fort Forth. Unfortunately, that momentum did not carry over into the new year, at least so far. Even so, the Dallas – Fort Worth metroplex as a whole continues to be one of the fastest-growing large cities as well as one of the most active for new multifamily construction.
With the vaccine rollout continuing, some light at the end of the tunnel is visible for something resembling a return to normalcy. Thanks to strong fundamentals in the area, and especially continued strong population growth, the local multifamily industry sits in an enviable position relative to many of the other large markets across the country despite the recent dampening of demand.
Jordan Brooks
Market Analyst – ALN Apartment Data, Inc
Jordan@alndata.com
www.alndata.com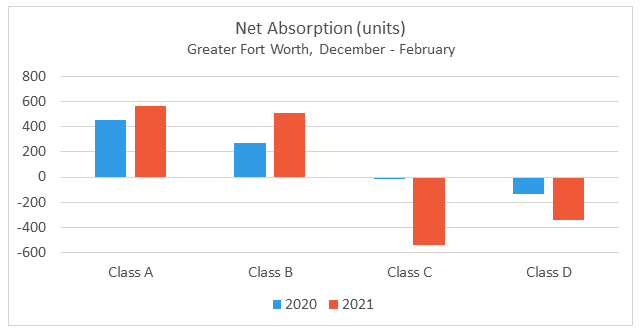 Jordan Brooks is a Market Analyst at ALN Apartment Data. In addition to speaking at affiliates around the country, Jordan writes ALN's monthly newsletter analyzing various aspects of industry performance and contributes monthly to multiple multifamily publications. He earned a master's degree from the University of Texas at Dallas in Business Analytics.