Lone Star Awards: The 90's Never Looked Better!
Date posted
February 1, 2023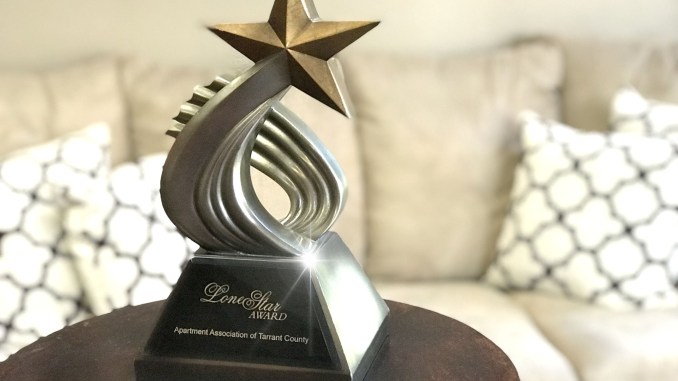 What a night at the Lone Star Awards event in downtown Fort Worth on Jan 27th!
Seven hundred of our closest friends gathered to celebrate the best of the best within our industry! This year, we took it back to the '90s, and we asked you to dress like you were in the '90s, and you guys did not disappoint! I saw Salt N Peppa, wind suits, Clueless, Wayne and Garth, Forrest Gump, The Waterboy, some epic grunge looks, and more fanny packs than I knew were available in Tarrant County.
We are incredibly grateful for the support of our presenting sponsor, Stowe's Independent Services. All our award sponsors ALN, Apartments.com, Arbor Carpet, BFS Supply, Camp Construction, Century HVAC, Green Mountain Energy, Impact Property Solutions, Intersolutions Staffing, MFI, Norman Roofing & Construction, Precision Appliance Leasing, Reliant, ServPro Team Shaw, Texas Southwest Floors, The Liberty Group, T-Rock Contracting, and Valet Living. Also, thanks to Reliant for providing our lanyards this year. None of this would be possible without your support.
It was also special celebrating the 2022 Lyceum Graduates, the outgoing 2022 Leadership team, and the incoming 2023 group. Incredible and talented folks are in our own backyard and surround us!
I don't know about you guys, but I had a blast with our theme, which brought back many memories! Congratulations to all the 2023 Lone Star Awards finalists and winners! Please take a moment to view them all below, and if you know them, give them some kudos for their extraordinary work!
Event Photos:
<iframe src="https://aatc.smugmug.com/frame/slideshow?key=2vXjbJ&speed=3&transition=fade&autoStart=1&captions=0&navigation=1&playButton=0&randomize=1&transitionSpeed=2" width="800" height="600" frameborder="no" scrolling="no"></iframe>
2022 LSA Award WINNERS
Leasing Consultant of the Year Under 350 Units
Chrissy Mathews, Olympus Willow Park – Olympus

Leasing Consultant of the Year Over 350 Units


Angela Thomas, Broadstone on Trinity – Greystar

Assistant Community Manager of the Year Under 300 Units


Bayley Hawthorne, Olympus 7th Street – Olympus

Assistant Community Manager of the Year Over 300 Units


Corby Barron, Oak Park by Arium – Carroll

Property Manager of the Year Under 300 Units


Marsha Ortiz, Trinity Meadows Apartments – WAK

Property Manager of the Year Over 300 Units


Alexandria Hood, Sagewater Village – Hillwood

Maintenance Support of the Year Under 300 Units


Evan Hodges, Olympus Willow Park – Olympus

Maintenance Support of the Year Over 300 Units


Andrew Zavala, Madera at Leftbank – Madera

Maintenance Supervisor of the Year Under 300 Units


Thomas Morrison, Harmon Villas – Capstone

Maintenance Supervisor of the Year Over 300 Units


Jose Martinez, Clear Fork Trail & Trinity Oaks – Madera

Regional Maintenance Supervisor


Nicolas Williamson – Cortland

Regional Property Supervisor of the Year


Stacie Parrish – American Landmark

Behind the Scenes Professional of the Year


TJaye Cupit–Sanders – Madera

Supplier Individual of the Year


Daniel Pentikis – Honey Bees Roofing & Solar

Executive of the Year


Sarah Turner – Olympus

Community of the Year Built Before 2000
Olympus 7th Street, Olympus

Community of the Year Built Between 2000-2005


Harlowe Luxury Living, Knightvest

Community of the Year Built Between 2006-2015


Sagewater Village, Hillwood

Community of the Year Built After 2015


Madera Leftbank, Madera

LSA 22 Finalists
Leasing Under 350
Chrissy Mathews, Olympus Willow Park – Olympus
McKenzie Elliott, Trinity Meadows Apartments

– WAK
Aide Prastrana, Woodlands of Arlington – WAK
Mackenzie Rogers, Sagewater Village – Hillwood
Mackenzie Hughes, Mercantile River District – American Landmark
Lauren Gunter, Sagewood Village – Hillwood
Johnathan Bowers, Landing at Mansfield – BH
Ashleigh Glover, Bluestem Village – Hillwood


Leasing Over 350
Winea Doyle, Park West Apartments – ASMC
Valerie Del Rio, Madera at Leftbank – Madera
Madalyn Smith, Canopy on Central – American Landmark
Angela Thomas, Broadstone on Trinity – Greystar
Shanna Moreno, Elmsgate at Cliffside – BH
ACM Under 300
Yesenia Garcia, Woodlands of Arlington- WAK
Heather Caddell, Trinity Meadows – WAK
Bayley Hawthorne, Olympus 7th Street – Olympus
ACM Over 300
Jenna Procaccino, SageStone Village – Hillwood
Bianca Arebalos , Bluestem Village & Tallgrass Village, Hillwood
Clara Galeas, Venue at 8651, BH
Kelsi Record, Clear Fork Trail & Trinity Oaks – Madera
Travis Gilyard, Watervue – RPM Living
Kyndel Hilgendorf, Monterra Village – Hillwood
Corby Barron, Oak Park by Arium – Carroll
Sabrina Brem, Cortland Bear Creek – Cortland
Bradley Carter, Canopy on Central – American Landmark
Vanessa Alred, Sagewater Village – Hillwood
PM Under 300
Brent Weast, Emerald Run Apartments – Community Enrichment Center
Lori Jones, The Vineyards at Trophy Club – ASMC
Perlyssia Arnold, The Paisley at Arlington – M Group
Desiree Dollison, Hunington Glen – Cortland
Sheila McDowell, Mag & May – RPM Living
Kim Montanye, Walnut Ridge Apartments – ASMC
Marsha Ortiz, Trinity Meadows Apartments – WAK
PM Over 300
Alexandria Hood, Sagewater Village – Hillwood
Shannon Witte, Cortland Presidio East & West – Cortland
Kyler Pippi, Sagewood Village – Hillwood
Raven Lee, Bluestem Village – Hillwood
Aubrey Barnett, The Davis – Olympus
Trish Jenco, Cortland at Bear Creek – Cortland
Maintenance Support Under 300
Stetson Johnson, Cleburne Terrace – Luma Residential
Cody Carter, Eagle's Point – Madera
Evan Hodges, Olympus Willow Park – Olympus
Maintenance Support Over 300
Omar Garcia, Sagewater Village – Hillwood
Walter Lopez, Sagewood Village – Hillwood
Andrew Zavala, Madera at Leftbank – Madera
Carlos Aguayo, Elmsgate at Cliffside – BH
Maintenance Supervisor Under 300
Thomas Morrison, Harmon Villas – Capstone
Eric Mensing, Copper Hill Apartments – Luma Residential
Maintenance Supervisor Over 300
Jose Martinez, Clear Fork Trail & Trinity Oaks – Madera
Raymond Hernandez, Carmel Creekside – Luma Residential
Tyler Herndon, Cortland Ridglea – Cortland
Liuver Setien, Madera at Leftbank – Madera
Carlos Castillo, Elmsgate at Cliffside – BH
Behind the Scenes
Laura Anderson – M Group
TJaye Cupit–Sanders – Madera
Jeff Hartert – Cortland
Julia Lawhorne – Olympus
Jaritza Jefferson – Darcorp
Regional Maintenance Supervisor
Jeremy Tyler – Olympus
Brian James – Highmark Residential
Nicolas Williamson – Cortland
Regional Property Supervisor
JoAnn Beard – BH
Jennifer Casas – Greystar
Cara Glover – Hillwood
David Hynek – S2 Residential
Hayli Johnson – Asset Living
Stacie Parrish – American Landmark
Melissa Pratt – Capstone
Angie Roberson – Madera
Kate Skaggs – Olympus
Cheryl Caudill – RPM Living
Jamie Woody – Cortland
Supplier Partner Individual
Jacob Crockett – Earthworks
Mitchell Farmer – Sherwin-Williams
Daniel Pentikis – Honey Bees Roofing & Solar
Hollyanne Putnam – The Liberty Group
Tony Sims – Century HVAC
Valerie Updegrove – Valet Living
Melanie Windrs – First Onsite
Jessica Clancy – Dixie Carpet
Executive
Corey Muldrow – M Group
Viki Skidmore – Darcorp
Sarah Turner – Olympus
Community of the Year Built Before 2000
Belmont Place – M Group
The Paisley at Arlington – M Group
Canopy on Central – American Landmark
Coventry at Cityview – WAK
Olympus 7th Street – Olympus
Community of the Year Built Between 2000-2005
Harlowe Luxury Living – Knightvest
Ranch Three0Five – American Landmark
Towne Crossing – BH
Olympus Town Center – Olympus
Community of the Year Built Between 2006-2015
Olympus Waterford – Olympus
Sagewater Village – Hillwood
Community of the Year Built After 2015
Cortland Presidio East – Cortland
Cortland Presidio West – Cortland
Madera Leftbank – Madera
Oak View – Darcorp
The Fitzroy Village Creek – Highmark Residential
Encore Panther Island – Greystar
Mercantile River District – American Landmark
Domain at Founders Parc – American Landmark
Sarah Turner, Olympus, is AATC's current Treasurer and was the 2022 Lone Star Awards Chair. For information, contact Mindy Barnes at mindy@aatcnet.org