December Education at AATC
Date posted
December 2, 2021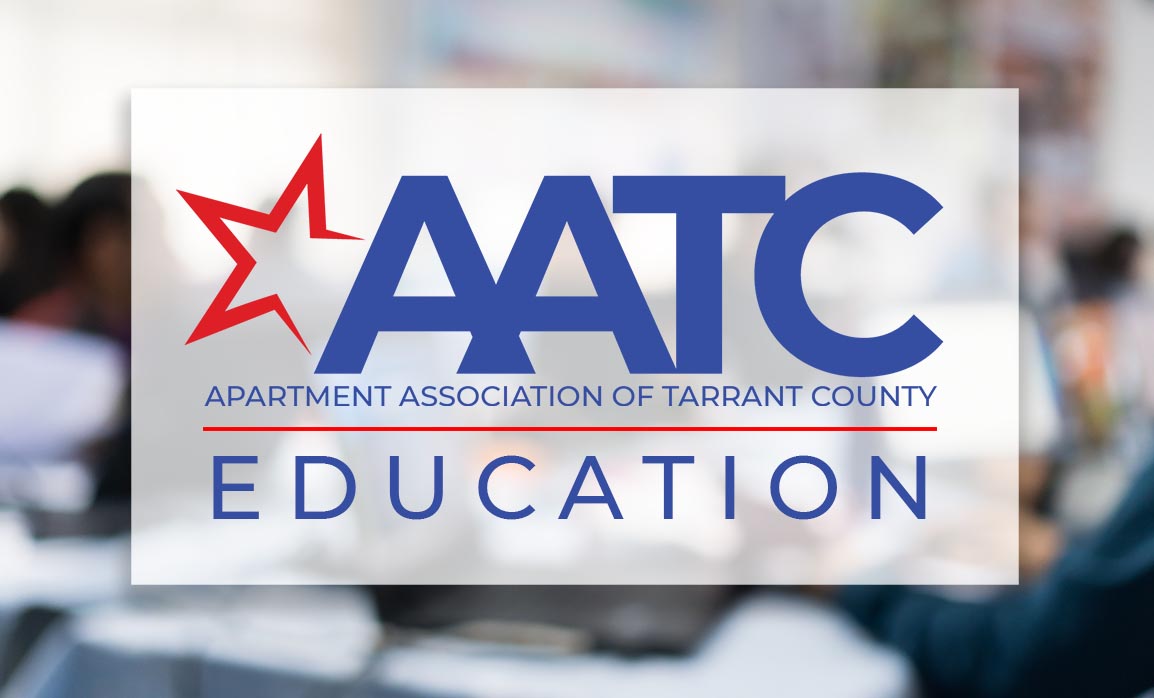 Education for 2021 has been incredible. We have delivered many in-person courses and virtual programs with exceptional attendance. To round out this year, we have 4 STELLAR programs for you and your teams to attend:
Dec 7th: The Climate of Your Culture with Katy Polanco.
This program will be fun, especially with 2022 right around the corner. But, do you know what Climate vs. Culture is? Do you know HOW to be a climate-focused leader?

Join Katy on Dec 7th, and you'll learn tangible ways to improve your environment by focusing forward!


Dec 9th: HVAC Troubleshooting Electric Heat and Heat Pumps with Tonya Lambert of Century HVAC.

Tonya always delivered incredible HANDS-ON programs on HVAC. Your maintenance teams do not want to miss this. Winter is right around the corner, and it's better to be prepared.

You will review the heat pump refrigeration cycle, identify components of a heat pump, and, most importantly, how to troubleshoot.


Dec 14th: Forms, Addendums, Attachments, OH MY! Webinar with Cayce Coon of Madera
If you have a new team member, this is the perfect course for them or even a tenured employee who needs a refresher. This course is the ideal program to attend as Cayce will detail the TAA Lease Contract and the most common addendums used onsite.

This program will be delivered via Zoom.


Dec 15th: Crisis Response Management for Property Managers with First Onsite
February 2021 taught us that we need to prepare for the unthinkable, and you must have a plan and follow the plan. Join First Onsite Restoration as they discuss with you how to be proactive in case of emergencies!

You can register for any of these courses by going to AATCnet.org! All courses are STAR applicable so get your teams registered!
Annually, our education department delivers the NAAEI Designation Programs. They are CALP/Certified Apartment Leasing Professional, CAM/Certified Apartment Manager, CAS/Certified Apartment Supplier, and CAMT/Certificate for Apartment Maintenance Technician. All candidates attend the programs either in-person or virtually, and at the end of the course (which is 4 to 6 days in length), they must pass an exam to earn their Credential. This year we are happy to announce we had 60 members enroll!
We want to acknowledge a few amazing members who completed their NAAEI Designation Programs and passed their exam!
CALP
Lisa Miles of Atlantic Pacific, and
Corby Barron of Carrol earned their CALP Designation.
CAS
Griselda Loera of CF Real Estate
Brent Weast of Community Enrichment Center
Kaylin Pritchett of Delano
Nikki Copeland of Westdale
Kailey Laiza of Carroll
Jessica Jackson of Olympus, and
Tricia Phillips of Villa Lago all earned their CAM Designation.
CAS
Zachary Tarrant of ALN
McKenzie Peters of Reliant
Ashley Walcher, and
Jacqueline Jagger all earned their CAS.
CAMT
Carlos Soto of Capstone
Albert Rodriguez of Luma
Christopher Clare of Carroll
Brent Helton of Monticello
Colby Trammell of RPM
Carl Storey of Madera
Stephany Smith of Cresson Pods
Tyler Davis of Manchester
Michael Merryfield of Churchill, and
Enrique Rodriguez of Dayrise all earned their CAMT Designations!
Congratulations to all Candidates and Designates! We look forward to watching you grow!
2022 Credential Courses are scheduled and accepting registrations! Classes are limited, so secure your seat as soon as possible.
Thank you to everyone who has supported education over the past 12 months. And a Huge Thank you to MFI and ALN for sponsoring these programs!