Cayce Coon - Your 2023 President
Date posted
February 1, 2023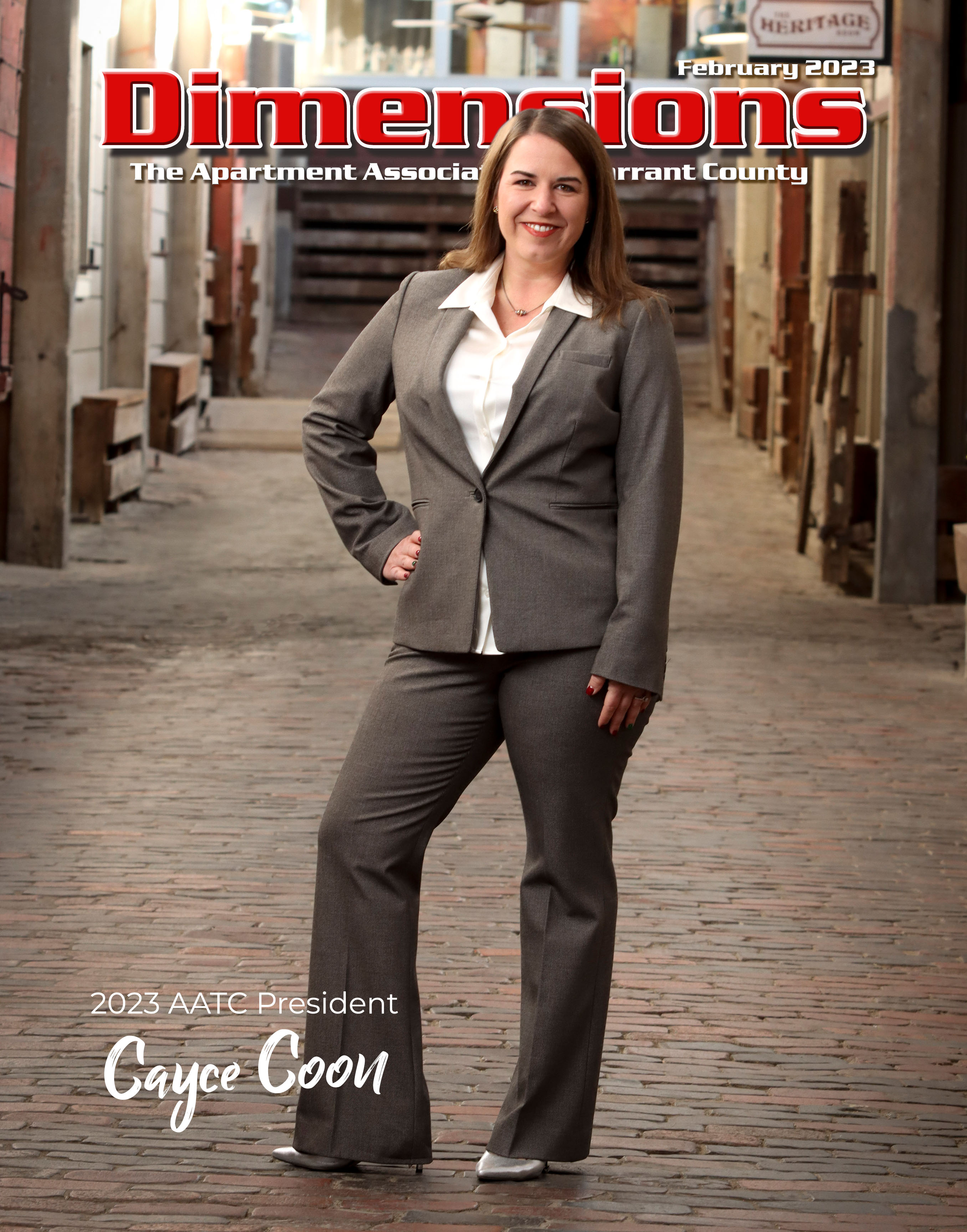 Originally from Iowa Park, a small town with a population of less than 7,000 just west of Wichita Falls, TX, Cayce Coon, Vice President of Operations DFW with Madera Residential, started her career as a leasing consultant at a Fort Worth apartment property.
Formerly a bartender, she was recruited into the industry by a friend in 2006 and hasn't looked back. After working at a couple of other management companies, she landed at Madera over 12 years ago, working her way up to her current position, overseeing almost 8500 apartment homes spread out over 30 communities.
Some things you may not know about Cayce. She was once a magician's assistant and learned how to perform bar tricks as a bartender to get better tips. She once traded her car for plane tickets so she and her future husband, Jeremy, could go to England. She also maxed out her credit cards once to buy season tickets to the Dallas Cowboys—nobody can ever say she's not a real fan.
Some of her closest friends will tell you she's terrible to play games with because of her highly competitive nature; she has the desire to win at everything—surely an attribute that will serve her well as President of one the most prestigious Apartment Associations in the country.
Not only is Cayce devoted to her family, with two beautiful children, but she is also a very focused professional, determined to be the best at everything she does, pulling everyone in her circle with her as they achieve great success.
"Watching Cayce grow, advance through the ranks, and mature as an intentional leader is a high-water mark in my career." says Jeff Lowry, Chief Operating Officer, Madera Residential. "Cayce's capacity covers her communication, her understanding, her appreciation for others, and her emotional intelligence! She's the real deal, and she has The Grit!"
Jeff Lowry isn't the only one who thinks highly of Cayce. Countless stories within Madera Residential and the industry as a whole highlight Cayce's numerous efforts and ability to work trying to make this industry better every day.
Lowry continues to say that understanding Cayce is as easy as ABC—her ability, bravery, and capacity. She excels in each of those areas, which makes her special.
Recently, AATC interviewed several of Cayce's closest friends and partners, and something they all agreed on is Cayce's passion for both the multifamily industry as a whole and, more importantly, her love for AATC.
Cayce says, "It was ten years ago that I really started getting involved in AATC. In 2013, I won a Lone Star Award and received my first NAA credential – My CAM – at AATC [and by] early 2014, I was promoted to my first regional position within Madera."
Cayce points out that before she started getting involved with AATC, she thought communicating with competing management companies was taboo, but she quickly learned that the challenges and opportunities within the apartment business were something they all shared and that AATC was the perfect nexus for everyone to find solutions. As a result, AATC opened doors she never knew could be opened. "Prior to getting involved, I thought folks from other companies were competition; I didn't know they were actually my ticket to achieve more success and provide me the wisdom to make better decisions in my role at Madera," she says.
"I can't sum up in words how AATC has impacted both my professional and personal life beyond measure," she says.
The tools AATC provides its members allow us to fight onerous laws and regulations, stimulate growth in our industry, and train our employees by sharing best practices from across the multifamily spectrum.
"It is important to stay plugged in with our ever-changing, fast-paced industry; however, joining with colleagues to actually create change and provide solutions for us all is so powerful! Together we really do accomplish so much," says Cayce.
She continues, "One of my main goals as president is to shatter the previous norms and not be afraid to break the status quo to push AATC into a new and exciting future."
Do you want a chance to get involved like Cayce? Then join one of our committees and jump in, ready to serve. You, too, can learn and grow with AATC.
For more information on how to get involved with AATC, visit aatcnet.org.