AATC EdCon and Trade Show
---
Thursday, October 19, 2023
Category: Signature Events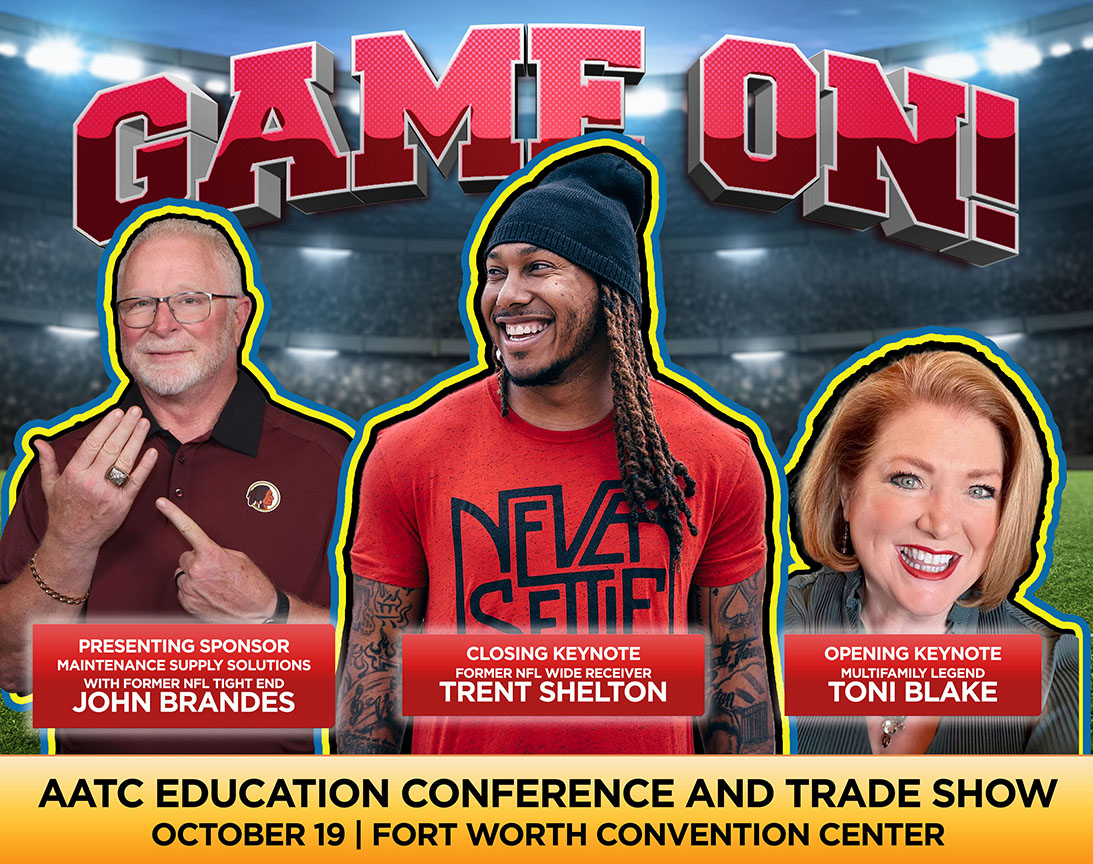 I'm here to invite you and your teams to our annual GAME ON Education Conference and Trade Show on Thursday, October 19th, at the Fort Worth Convention Center—and don't worry, we've covered parking for you.
Don't forget, this is event is in October this year—not November.
REGISTER FOR EDUCATION CONFERENCE
Registration for Trade Show is included with Education Conference!
---
Event Summary:
AATC Education Conference – October 19th, Fort Worth Convention Center, 9 am-4 pm
AATC Trade Show – October 19th, Fort Worth Convention Center, 4 pm-7:30 pm
---
Education Conference GAME ON!
AATC's annual Education Conference is back! This year, we have redesigned the conference with AATC members in mind. We invite you to join us at the Fort Worth Convention Center on October 19th to get your GAME ON!
Get Ready to Bring Your A-GAME – the education conference Task Force and committee, chaired this year by Jimmy McClung, Luma Residential, has totally redesigned the education conference from the top down into a day of incredible learning opportunities for everyone! And by everyone—we mean EVERYONE!
This year's Game On AATC Education Conference, presented by Maintenance Supply Solutions, will present two exceptional keynote speakers. Our opening keynote will be the ever-talented, one and only Multifamily Legend—TONI BLAKE! Toni is also going to deliver a message titled GAME ON! Make Your Move. She has a message designed explicitly for AATC, so you'll want to be on the lookout for her time slot during registration!
Here's the part you've been waiting for—our closing keynote this year is former NFL Player Trent Shelton! Trent, who has played for the Indianapolis Colts, Seattle Seahawks, and Washington Redskins, will be in the house! He is a former NFL-er turned social media influencer through his grassroots motivational posts online. Trent is going to share The Top 5 Traits of a Championship Mindset.
A former NFL wide receiver, Trent is now considered one of the most impactful speakers of his generation. He reaches over 60 million people weekly through hard-hitting videos and unprecedented engagement. Though based in Fort Worth, Texas, with his wife and two children, Trent connects with people worldwide through his speaking engagements.
Another incredible feature of our new format is that we have designed the conference to include learning tracks for every person who works on-site, from leasing professionals, assistant managers/bookkeepers, managers, training and marketing directors, Regional Managers, Executives, and our ever-important Independent Rental Owners.
We have created over 16 educational sessions for you to choose from, such as:
Leveraging Leadership,
How To Make Them Stay -Onboarding in Today's Environment,
The Future of Leasing in Multifamily,
Legal Program - Emotional Support Animals,
Relationships Matter,
DE&I Understanding Microaggressions,
Top 10 Skills Every Maintenance Professional Should Possess
Those are some great industry topics, and we have so much more in store for you!
Another addition to our line-up this year is during lunch, AATC's Government Affairs Director, Perry Pillow, will moderate a panel discussing the State of the Industry in Fort Worth and Surrounding Cities. These are 'can't miss' opportunities, so sign up for this extraordinary day of learning, fellowship, and fun!
We've designed the pricing to be affordable at $189 per person, or for groups of 10 or more, it's $170 per person PLUS you get your own designated table for your group. We have also added special pricing for your maintenance service team members—only $99 per person! We encourage you to invite them to participate in the excellent maintenance team sessions we've created, so let's get those service teams registered to attend!
AATC Trade Show
And if you couldn't ask for more – when the education and leadership conference is over, you'll head directly downstairs to the AATC Tradeshow, where your supplier partners are waiting to see you! This year's show will feature over 200 booths with 160 different AATC supplier partners. There is no better opportunity to learn the latest and greatest our industry has to offer. How can you serve your residents better? Come to the AATC Trade Show and find out!
Once again, we'll be giving away $3,000 in cash prizes, not to mention all the other prize opportunities our exhibitors may have to offer. Remember, to win AATC prizes, you'll have to be present to win.
You can register for the Trade Show by itself, or it's included with your Education Conference Registration.
Get signed up for one or both events today and support our industry like never before!
Also, validated parking is included in the cost of attendance for both events.*
Hope to see you on October 19th!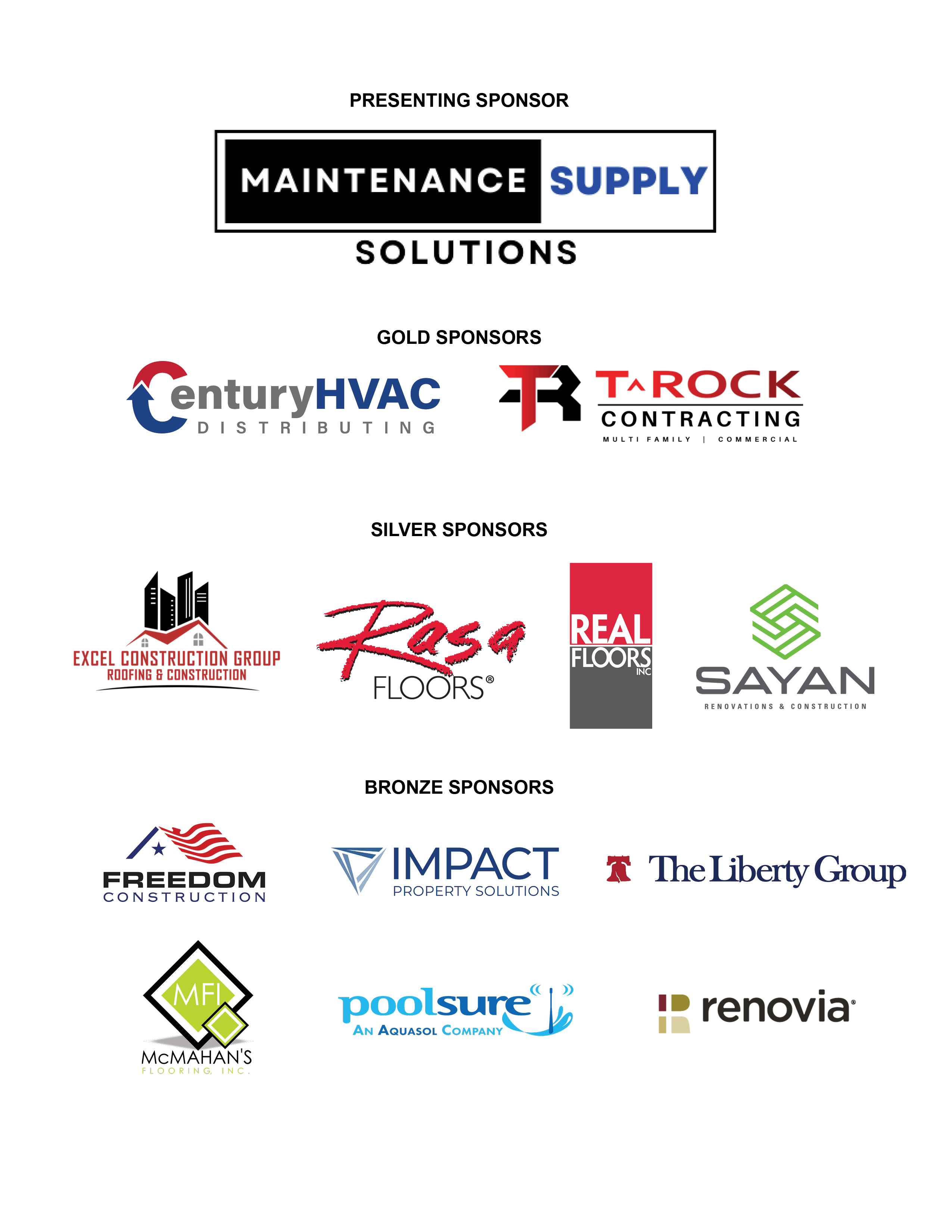 For More Information:
860 Airport Freeway Suite 101
Hurst, Texas 76054
United States
817-284-1121