2023 AATC Education and Leadership Conference
---
Thursday, October 19, 2023
2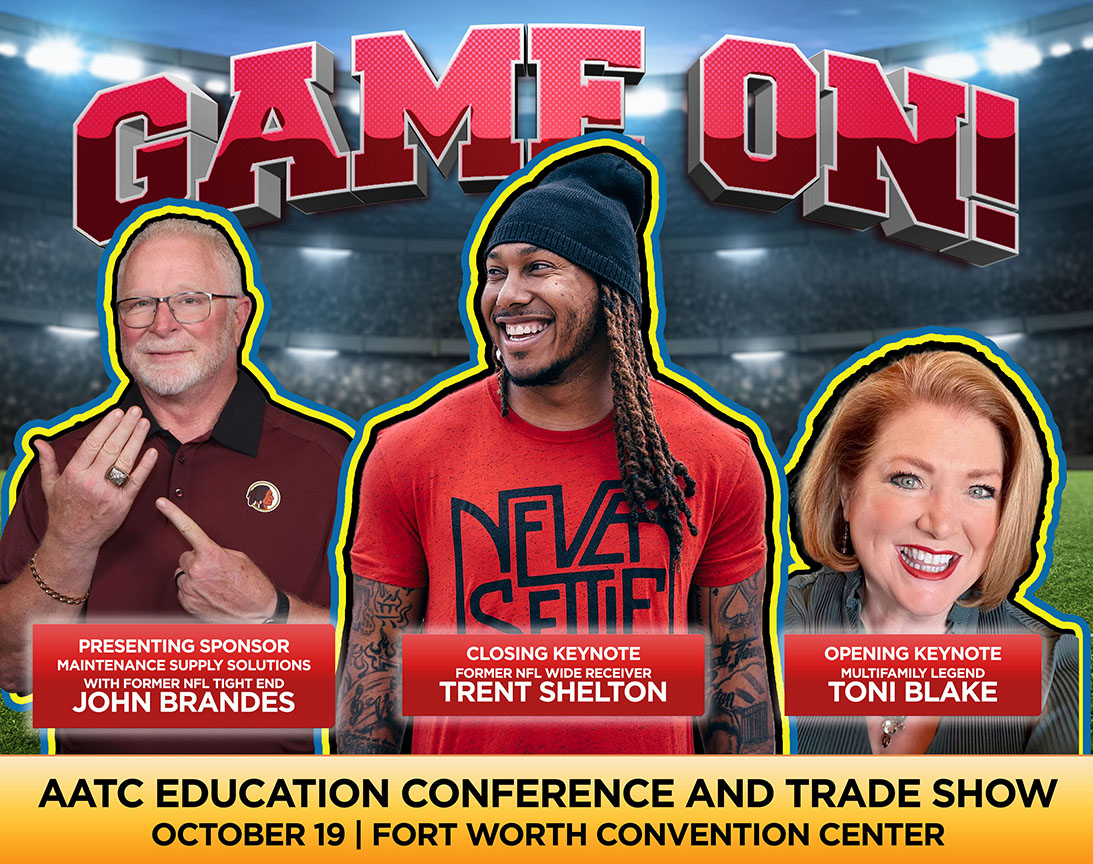 – TWO Keynote Speakers
– 16 Educational Sessions
– New Maintenance Track
– Validated Parking


We've revamped our education conference to include an entire day of leadership programs for everyone on your teams! We have over 16 sessions you can attend, from Sales and Marketing, to Leadership, Operations, and Management. For the first time, we are offering a track for our very important Maintenance Teams—at a special discounted rate!
Sessions are:
Shannon Hanrahan, Gracehill: Are you Afraid of Commitment? Let's Talk Leveraging Leadership


Rick Ellis, Ellis Consulting: 2 Seminars: Dealing with Difficult People AND The Resident is NOT The Problem?


Nicolle Block, BP Apartments: If You're Drowning In 2 ft' of Water, STAND UP!


Toni Blake, Multifamily Legend: UPLifting Leasing and Renewals.


Daisy McCarty of Marketing Blender: Top 4 Branding & Marketing Actions to Transform Your Revenue.


Cayce Coon, Madera: Did You Just Say That? Effective Communication = Productive and Happy Team!


Lissi Daniels, Lissi Daniels Company: Two Hats, Same Customer...Leveraging your role in Sales and Customer Experience.


Ben Wientge, iRestify and Jessica Brooks, Madera: Am I Doing That?Understanding Microaggressions.


Sarah Turner, Olympus Property, The Game Within the Game. Understanding how controlling your emotions can create peak performance.


PANEL: Moderated by Perry Pillow, AATC Victoria Cowart Pet Screening, Attorney Jim Floyd, The Floyd Firm: Property Owners assistance animals checklist & steps to avoid fair housing act liability.


Jimmy McClung, LUMA Residential: Ten Skills that successful maintenance support supervisors possess.


Panel: Moderated by Kevin Pellegrino, AATC. Guests Cayce Coon, Madera, Sarah Turner, Olympus Property, Jamie Woody, Pegasus Cara Glover, Hillwood. Ensuring Onboarding Success.


And More To Come!


We've got an incredible lineup of local and national industry speakers–guaranteed to score big! You can view the full roster on our website at aatcnet.org.
I'm also excited to share with you that this year, we have TWO keynote speakers!
Our opening keynote is Multifamily Legend, Toni Blake! Toni's keynote, MAKE YOUR MOVE, will share powerful strategies for keeping your team's momentum moving forward. In addition to Toni's keynote, she is also going to host a seminar called Uplifted Leasing and Renewals.
To close this incredible day, former NFL wide receiver Trent Shelton will have a keynote of his own! Trent played for the Seattle Seahawks, Indianapolis Colts, and Washington Redskins. He is considered one of his generation's most impactful Self-Worth and Transformational speakers. Trent is going to share with you The 5 Traits of a Championship Mindset. He's sure to have you standing on your feet before he's done!
As an added bonus, our very own Perry Pillow will be moderating a panel to discuss the State of Industry in the Fort Worth area during lunch, which will be provided.
Of course, we must take a moment to thank our sponsors, without whom this incredible day of learning would not be possible.
Presenting Sponsor
Maintenance Supply Solutions
Gold Sponsors
Century HVAC Distributing
T-Rock Contracting
Silver Sponsors
Excel Construction
Rasa Floors
Sayan Construction
Real Floors
Bronze Sponsors
Freedom Construction
Impact Property Solutions
The Liberty Group
MFI
Poolsure
Renovia
Thank you again to all these incredible sponsors! Make sure to stop by and visit them at the conference!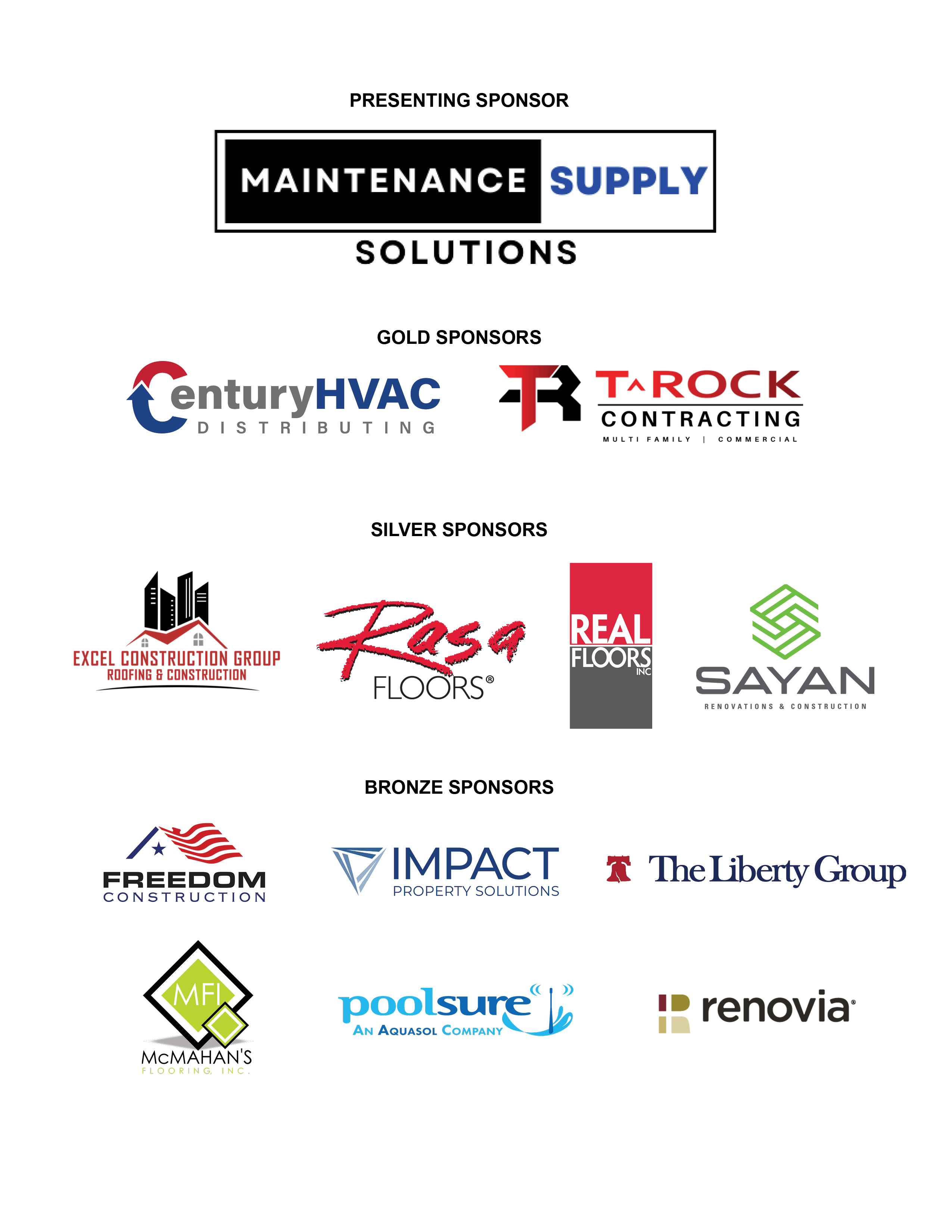 REGISTRATION FEES
$189 Member
$170 For Groups of 10 or More
$99 Maintenance Member
includes lunch and parking
For More Information: