STAR Education Subscription
Save money on your annual training investment. Enroll Today with Anytime Enrollment!
Education Subscription Investment: $489 Per Property For 12 Months
Per Property Savings for STAR Bundle: $1,300+ Value
ANYTIME ENROLLMENT
AATC's Education STAR Subscription has been created to give you more access to industry programs at a discounted price. When you purchase the STAR Subscription, the staff at your property are able to attend all eligible classes, seminars, and programs without worrying about the cost. The package is designed so every position within a property can enjoy an outstanding training class that will develop their skills to better perform in their role. ​
Check Out THESE Amazing Instructors Below, All Included in Your Investment.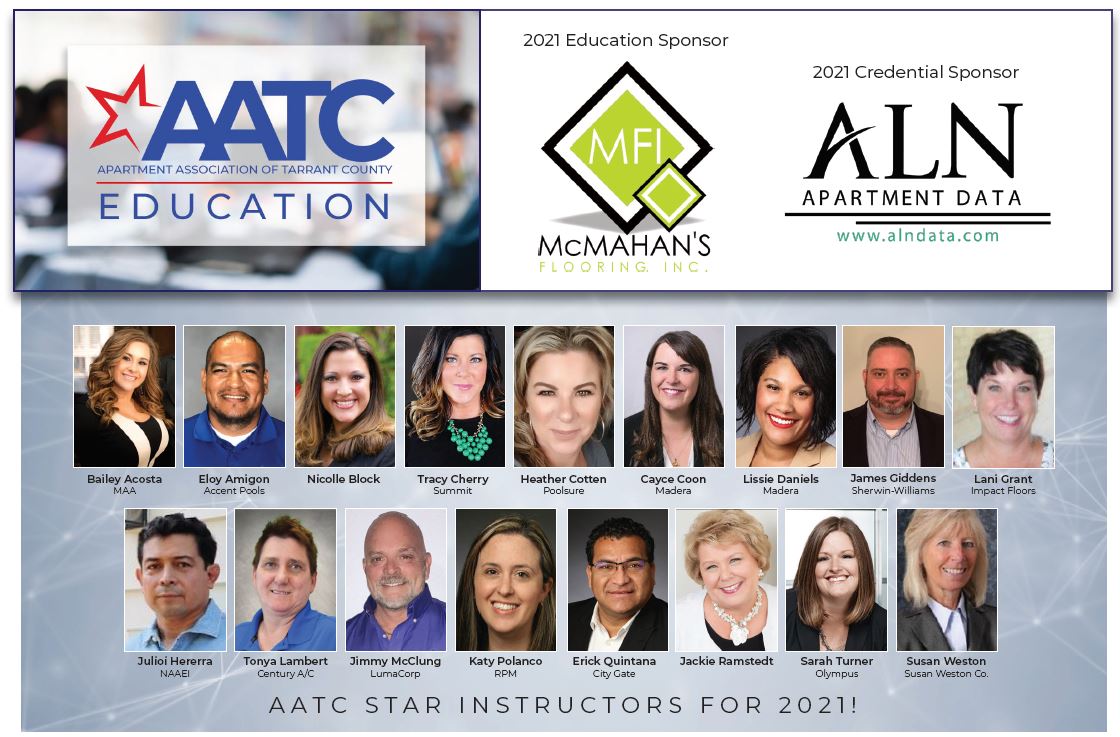 Benefits of the STAR Education Bundle
Each Property will have access to 29 Education Courses
22 Seminars: HVAC, Plumbing, Appliance Repair, Basic Painting, Turn-Key Processes, Advanced Sales, Customer Service, Recruiting, Training, Renewal Management, Outreach Marketing, and more.
3 FOUNDATIONS Courses (new to AATC this year): Sales, Management, and Leadership
1 Admission to Basic Pool Operator Certificate Course per property (to be delivered in English and Spanish)
3 Fair Housing Certificate Courses: Introduction to Fair Housing, Advanced - focusing on legal ramifications, Service Personnel/Maintenance.
PLUS 10% Discount on the following:
NAA Credential Courses:


CAMT - Certified Apartment Maintenance Technician
CAM - Certified Apartment Manager
CALP - Certified Apartment Leasing Professional
CAPS - Certified Apartment Portfolio Supervisor

EPA 608 Certification
Programs will be delivered either in person, virtual, or hybrid. Delivery type will be noted when registering from the program.
Per Property Savings for STAR Bundle: $1,300+ Value
ENROLL TODAY WITH ANYTIME ENROLLMENT
FAQ
It is a package of unlimited Half Day / Power Hours / Hot Topics / and Fair Housing training programs that you can utilize towards any of our STAR Eligible Programs. We are also offering a 10% discount on registrations for NAAEI Credential Courses: CAPS, CAMT, NALP, and CAM and EPA 608. *ANYTIME ENROLLMENT*
You can pick any of the STAR Bundle eligible classes which include: pool school(1 person, per property, per year included with STAR), fair housing, Assistant Manager Club, Leasing 101, Advanced Sales, Customer Experience, Maintenance Courses and more. Some courses will be offered in English and Spanish.
Anyone employed at your property can attend! Customize the course offerings based on your property needs. Remember, you can send anyone on your property to STAR eligible courses.
Compared to a-la-carte pricing, you will save over $1,300+ for 12 Months of Education/Training and this doesn't included the 10% discounted pricing on the 4 credential programs.
You save over $1300+ of your properties training budget
Unlimited attendance to Half Day / Power Hours / Hot Topics / and Fair Housing courses
Admittance of 1 person per property for 2021 to Pool School.
10% discount on NAAEI Credential Courses: CAPS, CAMT, NALP, and CAM and EPA 608
Most importantly – this eases billing since you will only pay ONE TIME for an entire 12 months.

Note: additional courses are offered which are not part of STAR Bundle and will have a fee associated with it.
For additional information about our curricula contact Gregory Ann Goldrick, Director of Career Development at
ggoldrick@aatcnet.org
.