AATC Education
Date posted
January 13, 2022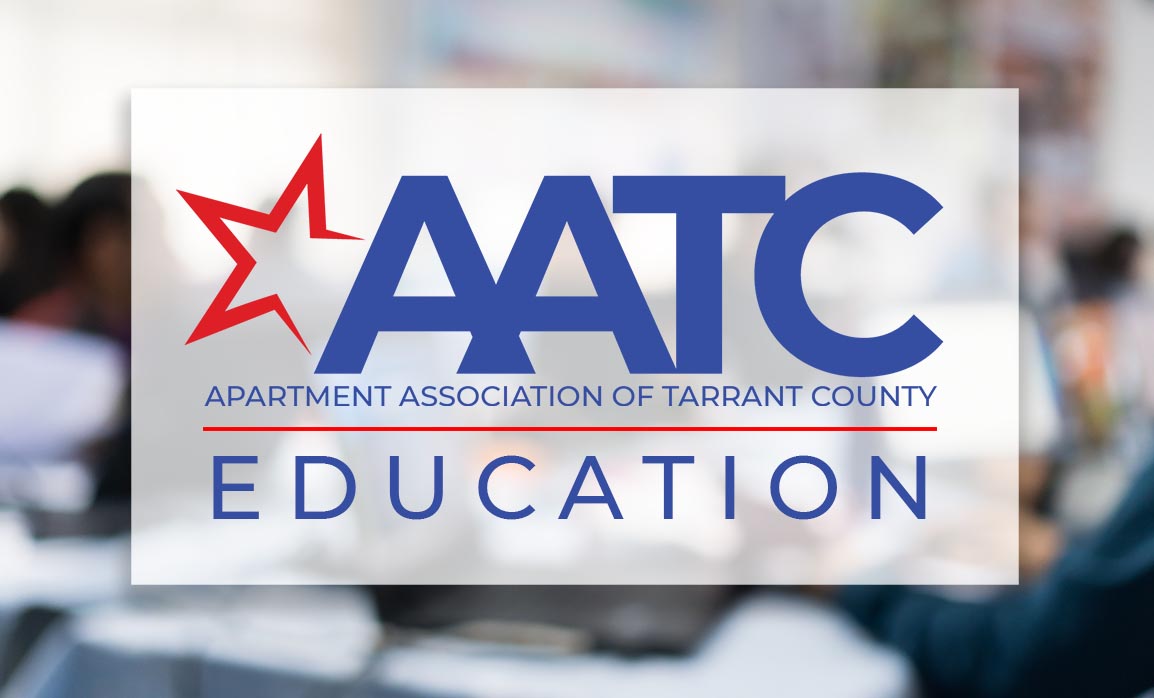 Education had an incredible year in 2021! Nearly 1,000+ students benefited from AATC education programs in 2021.
The Education Committee with Sarah Turner as the 2021 Chair planned and executed over 47+ programs which included Basic Pool Operator, Certified Pool Operator, EPA 608 Certifications, Legal Webinars with member Attorneys, Maintenance courses from live webinars to hands-on facilitation, Sales and marketing courses, and Leadership programs. We also hosted the annual TAA Lease with the Best Contract and Forms update virtually with presenting Attorney Kimberly Sims.
This year we graduated over 63 candidates in the National Apartment Association Education Institute Credential Programs which consist of:
CAM -> Certified Apartment Manager
CALP -> Certified Apartment Leasing Professional
CAS -> Certified Apartment Supplier
CAMT -> Certificate of Apartment Maintenance Technician
During June, we were forced to relocate all in-person education programs during the summer to another facility due to the sale of our building. We formed a great partnership with Texas Star Golf Course and Conference Center in Euless, and it has been exceptional! AATC has had a long relationship with Texas Star going back well over 15+ years.
The success of our education programs would not be possible without our incredible program facilitators, mentors, and friends of AATC. Let's give a HUGE Virtual High-Five to the following Super Stars:
AATC's Annual Education Conference – ACCELERATE2021 was a huge success! We had not one but two Olympic Gold Champions as our keynote speakers. Carly Patterson who won the all-around Gold Medal in Gymnastics in the 2004 Games AND Darvis "DOC" Patton of the USA Olympic 4x100 Relay Team of the same games. It truly was inspirational to have these Olympians share their journeys with over 250 members. In addition to these incredible Olympians, we have our local Dream Team of Tracy Cherry, Katy Polanco, Lissi Daniels, and Sarah Turner guide attendees through a day of acceleration, marketing, perseverance, and gratitude.
As we round out the year, we are excited to announce in 2021 AATC Awarded 7 Credential Scholarships to our members. We graduated 1 Certified Apartment Leasing Professional, 1 Certified Apartment Manager, and 5 Certificate of Maintenance Technicians. The Association's Education Fund provides scholarships for our credential programs and underwrites AATC's Annual Education Conference Keynotes. The Fund was able to grant scholarships from 2020 reserves to 7 deserving members: Nikkita Copeland of Westdale, Lisa Miles of Atlantic Pacific, Jose Mejia of Olympus, Brent Helton of Monticello, Brent Weast of Community Enrichment Center, Colby Trammell of RPM, Carlos Soto of Capstone, and Stephany Smith of Cresson Pods. We are incredibly proud of all our scholarship recipients; we look forward to watching their careers grow.
As we move into 2022, Katy Polanco of Olympus Property will chair the Education Committee and the Education Conference Task Force … we can't wait to see what she has in store for 2022!