CAMT - Certified Apartment Maintenance Technician
Dates for 2023 To Be Announced Soon!
---
Tuesday, March 15, 2022
at
9:30 AM (CDT)
to Thursday, April 7, 2022 at 5:00 PM (CDT)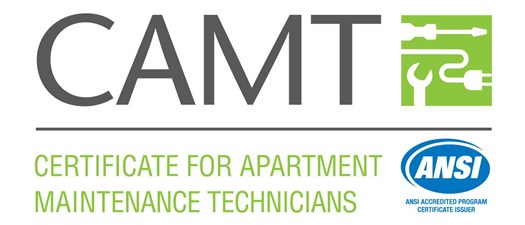 WE RECOMMEND THIS COURSE for maintenance technicians, property managers, regional managers, porters, housekeepers, and groundskeepers who are ready for advancement.
Earning your CAMT boosts your knowledge and skills, your reputation, and your confidence.
YOU'LL LEARN ABOUT:
Processing work orders efficiently and to residents' satisfaction
Electrical, plumbing, HVAC, mechanical, appliance, construction, and lock and key services and repairs
Painting services
Customer service
Following company policy and procedures
Minimizing personal and property damage
Maintenance safety
Fair housing regulatory compliance
Environmental responsibility and regulatory compliance
Documenting and reporting maintenance activities in compliance with company policy and regulation
Curb appeal, property inspection, and daily maintenance
Maintaining recreational facilities and common areas
Implementing a preventative maintenance schedule
Professional behavior, communication skills
2022 CAMT PROGRAM SPONSOR

2023 Course Dates To Be Announced This Summer.

Modules: Air Conditioning Maintenance and Repair, Appliance Maintenance and Repair, Electrical Repair and Maintenance, Heating Systems Maintenance and Repair, Interior and Exterior Maintenance and Repair, Plumbing Maintenance and Repair
Program Requirements: CAMT Candidates must complete the following requirements to obtain the CAMT Designation:
A minimum of 12 months of onsite property maintenance experience

An individual without 12 months of onsite experience may earn a Provisional certificate.

Have successfully completed CAMT coursework, and
Meet all examination requirements within 6 months of enrolling in the program.
For More Information: