Tuesday, November 15, 2022
Category: Available Sponsorships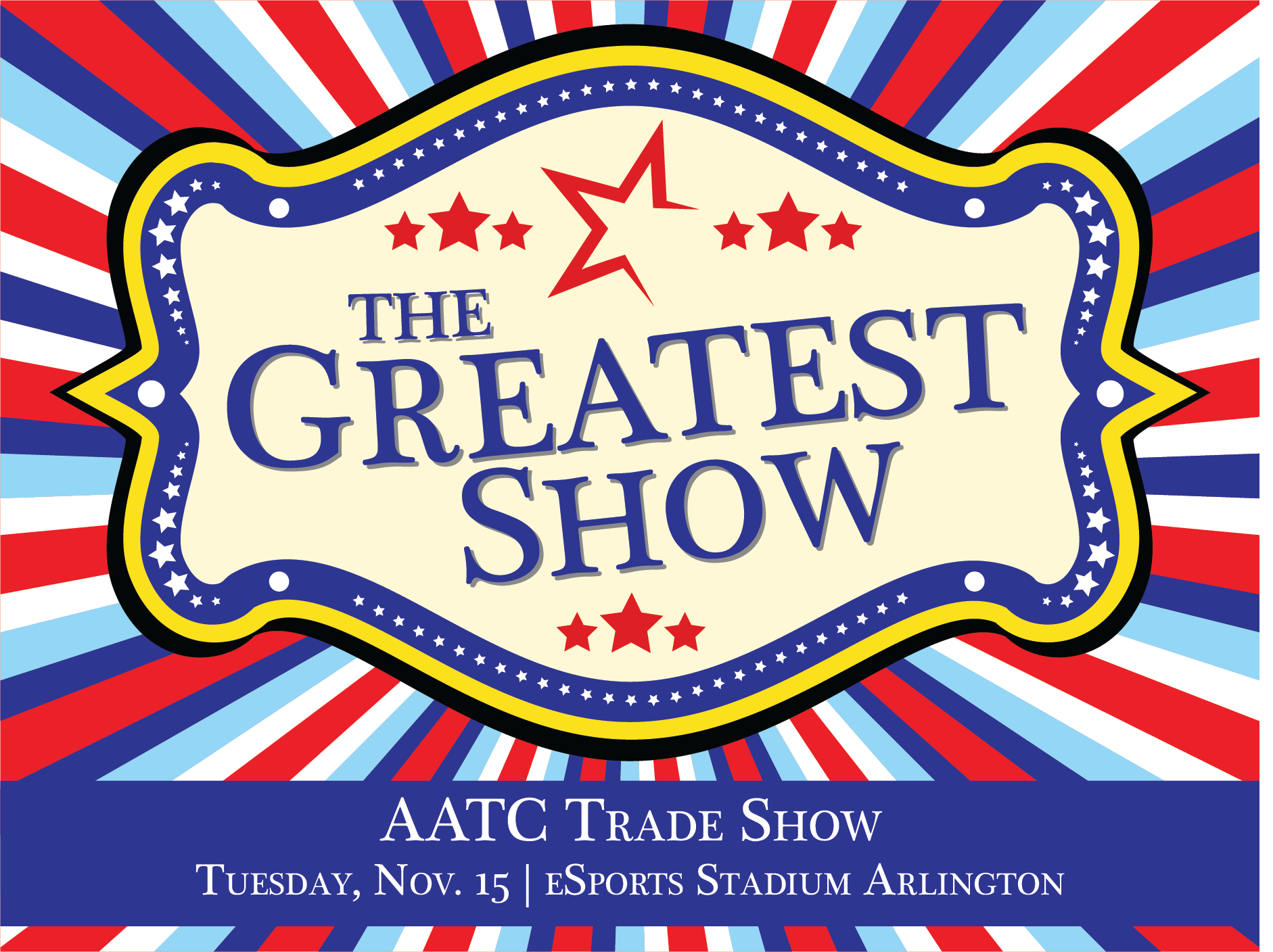 Owner/Managers: Come to our 2022 Trade Show!

ONLINE REGISTRATION IS CLOSED BUT YOU CAN STILL REGISTER IN PERSON AT THE EVENT!

The Greatest Show – 2022 AATC Trade Show
eSports Stadium Arlington & Expo Center;
November 15, 4 pm to 7:30 pm
FREE admission for all owner/operator onsite and corporate staff.
It will be another packed house at the AATC Trade Show, and this year will be the Greatest Show Ever!
Reasons you should come to the
AATC Trade Show:
Learn the latest industry products and services

Network with people in your industry

Support AATC Supplier Partners

You could win cash prizes up to $2,000
(must be present to win. All winners are subject to verification.)
Please bring your entire team to the trade show; you'll see why it will be the Greatest Show!

Each year, AATC hosts an annual trade show consisting of over 150 exhibitors comprising over 200 booths. Stay tuned for details!
---
Exhibitors List
| | |
| --- | --- |
| Company | Booth_Number |
| 1st Choice Chimney Commercial | 209 |
| A-AArlington Abandoned Vehicle | D-625 |
| A-List Apartment Staffing | 621 |
| A-Team Restoration | D-701 |
| AAdvantage Laundry Systems | 804 |
| Accent Pools Inc | 823 |
| Adamsmark Construction | 509 |
| Advanced Exercise | 308 |
| Ally Construction | 123 |
| ALN Apartment Data | 409 |
| Alpha 3 Renovations, LLC | 721 |
| Ameristar Screen & Glass | 400 |
| Anchor Graphics | 322 |
| Anderson Paving, Inc. | 813 |
| Apartment Life, Inc. | 727 |
| Apartmentdata.com | 924 |
| Apartments.com | D-117 |
| Apollo Towing | P-3 |
| Arbor Contract Carpet | D-317 |
| Aroma Impressions | 523 |
| ASAP Personnel | 404 |
| Atlas National Renovations | 808 |
| Auto-San, LLC | 300 |
| AZP Multifamily | D-423 |
| Behr Paint | 713 |
| Belfor Property Restoration | 319 |
| BFS Supply (DeFord's) | D-920 |
| BG Multifamily | 619 |
| Blusky | 623 |
| Builderz Warehouse | D-100 |
| Camp Construction | 826 |
| Capital Tow, Inc. | P-7 |
| Centex Construction | D-225 |
| Central Renovation Solutions LLC | 408 |
| Century Fire Protection | 500 |
| Century HVAC | 923 |
| Chadwell Supply | D-418 |
| Chase Fire and Safety LLC | 203 |
| CI Pavement | 327 |
| Clozzits | 725 |
| Comm-Fit | 112 |
| Commercial Equipment Company | 207 |
| Community Concierge Services | 503 |
| Conservice | 401 |
| Contractors, Inc | 812 |
| Dey distributing | 326 |
| DFW Pro Lawn Care, LLC | 220 |
| Dixie Carpet | D-125 |
| Dynamic National | 718 |
| Earthworks DFW | D-817 |
| Element Enterprises | 608 |
| Elite Parking Management | 111 |
| ExactEstate: Property Management Software | 815 |
| Exist Graphics | D-226 |
| ExIST Multifamily | D-305 |
| Ferguson Faciliites Supply | 822 |
| FIDUS Construction Services | 323 |
| First Onsite | 508 |
| Freedom Construction | 303 |
| FSGS - Your Trusted Sign Partner | 819 |
| Glass Doctor of North Texas | 700 |
| Green Forest Termite & Pest | 102 |
| Green Mountain Energy | 318 |
| Green Roofing and Construction | 328 |
| Greenforest Landscaping & Maintenance, Inc | 221 |
| Greenview Lawn and Landscaping | 627 |
| GUARDIAN CONSTRUCTION & INTERIORS | 927 |
| H2O Plumbing | 908 |
| H2O SPLASH PAD, POOLS & AMENITIES | 617 |
| Handytrac Key Control | 708 |
| HD Supply | 402 |
| Hentana Construction | 914 |
| Honey Bees Roofing & Solar | 800 |
| Impact Mechanical Services, LLC. | 705 |
| Impact Property Solutions | SP-1 |
| Intersolutions Staffing | 302 |
| J National | 820 |
| K4 Construction Services | 103 |
| Kings III | 719 |
| Landmark Paint & Supply | 426 |
| Lanyard Construction Services | 706 |
| Legacy Landscaping | D-119 |
| Leisure Creations | 309 |
| Liberty Rent | 809 |
| Lone Star Apartment Services | 913 |
| Lowe's Pro Services | P-5 |
| LSR Multifamily | D-217 |
| Mars Services | P-6 |
| Massey Services | 213 |
| Matrix Construction Services | 320 |
| Metro Golf Cars | 806 |
| MFI | P-4 |
| MRI Software / CheckpointID | 301 |
| Multifamily Utility Company | 205 |
| MVP Playgrounds | 606 |
| National Credit Systems | 506 |
| Nextdoor Painting &Roofing | 321 |
| Norman Roofing and Construction, Inc. | 825 |
| On Guard | 201 |
| Optimized Waste Removal | 105 |
| Pakilti LLC | 405 |
| Pappas Roofing and Construction | 603 |
| ParkM | 726 |
| Pavecon LTD | 818 |
| Pavement Services Corp | 712 |
| Penn Apartment Staffing, LLC | 912 |
| Pet & Playground Products | 720 |
| PetScreening | 223 |
| Pinnacle Foundation Repair | 723 |
| Plumb Krazy Plumbing | 715 |
| PPG Archetechtural Coatings | 604 |
| Poolsure | 918 |
| Precision Appliance Leasing | 609 |
| Priority Commercial Roofing | 522 |
| Property Paving, Inc. | 525 |
| Qwikkit | 824 |
| Ram Jack Foundation Repair | 113 |
| Rasa Floors | D-325 |
| Reclaim Construction | 626 |
| Recycle NOW | 704 |
| Redi Carpet | D-717 |
| Reliable Paving Inc | 728 |
| Reliant | D-425 |
| Renew Renovation | 101 |
| Rent. | 524 |
| Restoration Management Company | 505 |
| Richmond & Associates | 601 |
| Service Response Team | 504 |
| Servpro of North Fort Worth | 104 |
| ServPro Team Shaw | 807 |
| Sherwin Williams | P-1 |
| Shielder Ventures, LLC dba D&G Quality Roofing | 814 |
| Signal 88 | 222 |
| Southlake Technical | 906 |
| Southwest Auto Tow | D-1006 |
| Spectrum Community Solutions | 219 |
| Star Personnel | 722 |
| Sterling Personnel | 425 |
| Stowes Independent Services | 602 |
| Superior Floors | D-313 |
| Surface Connection | 925 |
| Surface Experts North Fort Worth | 109 |
| T-Rock Contracting | D-106 |
| Tempo inc. | 306 |
| Texas Package Solutions | 716 |
| Texas Select Construction | 507 |
| Texas Southwest Floors | D-501 |
| The Liberty Group | 502 |
| The Phoenix Staffing | 200 |
| The Vendor Guide | 422 |
| Trane Technologies | SS-1 |
| Trashbusters Disposal & Recycling | 406 |
| TXU Energy | 407 |
| Unity Construction & Painting Inc | 613 |
| Valet Living | 212 |
| VIMA Decor | 707 |
| WASH Multifamily Laundry Systems | 821 |
| Waste-X, LLC | 605 |
| WeDoTrash | 304 |
| Westlake Ace Hardware | 607 |
| Window World | 802 |
| Yardi Systems, Inc. | 702 |
| Zeus Restoration | 218 |
| Zillow Rentals | 709 |
| Zumper | 403 |
For More Information: