Don't Miss out On CAM or CAS!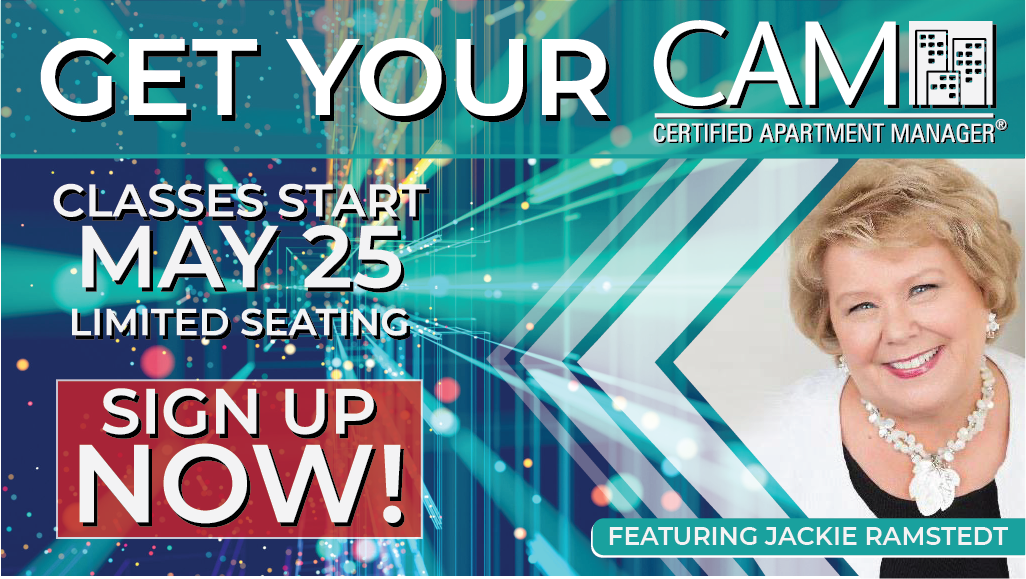 The Certified Apartment Manager (CAM) is a vital link between the resident and the community owners and investors. Earning your CAM credential gives you the knowledge to increase your community's net operating income. Whether you're new to apartment management or a long-time property manager, you'll enhance your skills, knowledge, and ability to effectively manage an apartment community and achieve its owners' investment goals.
Earning your CAM credential allows you to demonstrate your skills, knowledge, and ability to manage an apartment community and achieve owners' investment goals.
You'll learn about
Occupancy rates
Comprehensive marketing plans
Sales team management and product readiness
Equitable treatment of current and potential residents
Resident retention and the maintenance of a positive company image
Consistent and ongoing resident communication
Positive resident service and issue resolution
Enforcement of company policy in compliance with laws and regulations
Property inspections
Preventive maintenance programs
Service request process
Apartment turnover process
Contractors and vendors
Recruitment, hiring, orientation, and training of high-caliber employees
Systematic employee evaluation
Employment regulations and record-keeping
Analysis of the property's financial operations with corrective actions for underperformance
Monitoring of property performance to achieve the owner's investment goals
Accounting principles and practices
Maximizing net operating income
Reporting property performance honestly and accurately
To participate in the virtual offering of CAM students will need the following:
Computer with strong internet connectivity and audio/microphone
Print eBook for use during each module
Be able to use chat and polling responses
Plan to take their test within 90 Days of the last session.
WE RECOMMEND THIS COURSE for community managers and experienced assistant managers.
Pricing:
Members: $1,150
STAR Subscriber: $1,035
Non-Member: $1,250
**Payment must be received no later than May 15th to participate**
CAM Schedule
May 25 – Industry Essentials and Resident Experience
May 26 – Human Resources
May 27 – RISK
June 8 – Financial Investment
June 9 – Legal and Fair Housing
June 10 – Marketing and Property Maintenance
All Sessions will start at 9:00 am and end at 1:00 pm
Program Requirements: CAM Candidates must complete the following requirements to obtain the CAM Designation:
A minimum of 12 months of onsite property management experience.
Have successfully completed CAM coursework, and
Meet all examination requirements within 6 months of enrolling in the program.
About the Instructor
Jackie Ramstedt is a nationally renowned, requested repeat Motivational Keynote Speaker, National Trainer, Consultant, and Performance Coach who has more than 30 years of experience in the multi-housing industry. She has spoken to thousands of industry professionals on a national level for the National Apartment Association, Multifamily Pro Annual Brainstorming Events, the Institute of Real Estate Management (IREM), National Affordable Housing conferences, and numerous state and local Associations, including various management and investment companies throughout the United States and Canada. This is also Jackie's 12th consecutive year speaking with the prestigious Apartment All-Stars Team national tours specializing in customer service, resident retention, leasing, and management solutions.
Jackie earned her CAM and CAPS designations back to back and her CAS (Certified Apartment Supplier) designations whereby she was awarded the CAS Designate of the Year from her local Austin Apartment Association.
Jackie is a veteran instructor of all NAA designation courses including NALP, CAM, CAS, CAPS, and IRO. Jackie was awarded the "Faculty Member of the Year" from her local Austin Apartment Association, where she has served on the Board of Directors and as Education Committee Chair. Jackie is also an accredited instructor teaching core and MCE courses for the Texas Real Estate Commission (TREC).
For more information, contact Gregory Ann Goldrick, AATC's Director of Education, at ggoldrick@aatcnet.org